The Tickle Swim
A 5k swim to raise funds and awareness for mental health issues.
---
What is The Tickle Swim for mental health?
---
---
The Tickle Swim for mental health is a 5km open ocean swim across the tickle from Bell Island to Portugal Cove St. Phillips in support of the Canadian Mental Health Association's work in Newfoundland and Labrador.
The aim of the swim is to raise awareness and reduce stigma around mental illness, and to remind us that physical and mental health go hand-in-hand.
This is a unique and challenging Newfoundland event. All Swimmers are welcome provided they are fit enough to complete the distance.
Also, new for 2019, we are hosting a separate 1km near-shore "Little Tickle" Swim for juniors and new swimmers!
---
History
---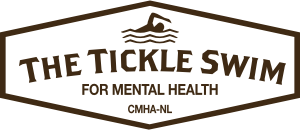 In 2013, the 5km swim was conceived and swam by community activist Sheilagh O'Leary. Sheilagh's vision came from her personal belief in the importance of improving and maintaining good mental health through physical fitness.
During the first year, 7 swimmers crossed the 5km between Portugal Cove and Bell Island.
In recent years we have had between 20 and 30 swimmers, raising over $25,000 each year!
---
Community
---
As you can see from the information above, your safety is of utmost importance in this event. We wouldn't be able to do this without the support of our kayakers, safety support boats, as well as the St. John's Ambulance on shore. On behalf of the Canadian Mental Health Association, NL Division we would like to thank the swimmers, and everyone that makes this event possible, for your dedication and tremendous efforts to making this event a safe and successful one. If you have any further questions regarding this event please contact us.
Special Thank you:
Alex McGruer
Cdn. Coast Guard, Notships
Dept. of Transportation and Works
Dicks Fish & Chips
Dave Ling
Elliot Yeo
Harry Young
Jeff Lawlor
Kayak Newfoundland and Labrador
Keith Barrett
Keith Lewis
Kelly Murphy
Kimberly Davis
Gary Gosine
Mayor Carol MacDonald
Mayor Moses Tucker
MHA David Brazil
Randy Cahill
Randy Clarke
Rick Stanley & Ocean Quest
Robert Salsman
Sarah Cook
Sheilagh O'Leary
St. John Ambulance
TA Loeffler
Tobias Langle
Town of Portugal Cove St. Phillips
Town of Wabana